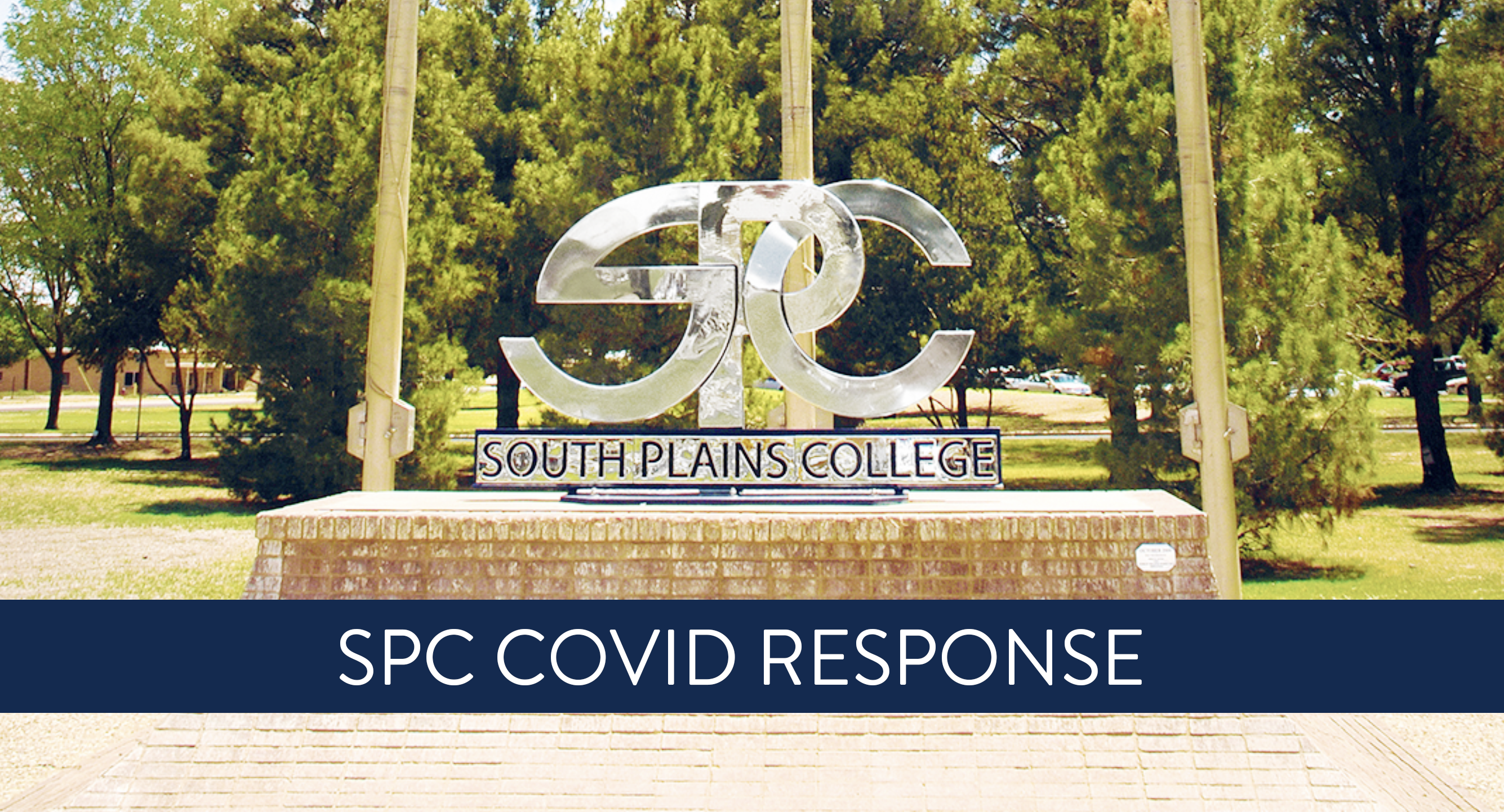 ISSUED: January 10, 2022 I Dr. Robin Satterwhite, President
Dear South Plains College Faculty, Staff, and Students:
Welcome back from what I hope was an enjoyable and restful holiday break! I am looking forward to a very successful Spring semester for all of you. As we are all aware, the COVID virus in its many forms and variants has continued to plague our area, state, and nation. As a result, we have been carefully evaluating the following plan of action for the Spring semester.
South Plains College will continue to have classes beginning January 18, 2022. Classes will be offered in the modality that they were originally scheduled without any changes.
Consistent with the latest CDC recommendations, we have revised our guidance for students, faculty, and staff who have a known exposure or have tested positive. Anyone with a known exposure should wear a mask for 10 days and should seek a COVID-19 test on day five after exposure. If you test positive or develop symptoms, you should immediately self-isolate and seek a COVID-19 test. Anyone who tests positive is required to self-isolate for five days. Following the five-day isolation period, if you are asymptomatic or your symptoms are resolving, you may return to work or class but should wear a mask for five additional days. If you are still symptomatic, please contact DeEtte Edens, Associate Director of Health and Wellness, prior to your return date.
Please immediately notify your instructor, supervisor, and DeEtte Edens (Associate Director of Health and Wellness) any time you test positive for COVID-19.
We ask that everyone continue to practice regular hand washing, cover coughs and sneezes, and distance when they are able. We also strongly recommend vaccinations and face coverings to increase personal protection.
Our goal is to have a very safe and successful Spring semester. Please help us make our campuses and communities as safe as possible while we navigate this newest COVID surge. I appreciate your flexibility, and I encourage you all to be understanding and supportive of one another during this time.
Sincerely,
Robin Satterwhite
President
SPC's Response:
South Plains College is committed to maintaining a safe and healthy learning and work environment for students, faculty and staff as the SPC Texan Community returns to campus amid the COVID-19 pandemic. To accomplish this goal, it is imperative that everyone join together to do their part. SPC has developed a Return to Campus Plan that outlines how the college will operate and the measures that will be implemented to help protect you and your loved ones. We look forward to welcoming you back to campus, as we continue to emphasize the following points:
All students, faculty and staff should monitor their health and notify appropriate personnel and their health care provider if they experience any symptoms related to COVID-19.
All students, faculty and staff who have been exposed or have symptoms of COVID-19 should contact DeEtte Edens, BSN, RN in Health Services at dedens@southplainscollege.edu or at (806) 716-2376.
Cleaning and sanitization process will be emphasized in every area of our campus.
Take time to review the plan along with other resources found on this webpage. We want your experience at SPC to be positive and safe as we all return to campus. SPC will continue to provide the best possible educational experience.